Pregnancy yoga classes will help you meet the challenges of pregnancy and birth with strength, confidence and calm, and are open to women in their second and third trimesters. Autumn classes are currently unfolding, and the next new session of Pregnancy Yoga will start on July 6, 2016.




In the Couples Workshop: Preparing for Childbirth with Movement & Breath expectant couples learn and practice breathing and movement specifically for labour and childbirth to encourage a supportive and positive childbirth experience. Sundays, August 7th, September 25th or November 13th.

Visit Yogaspace's very own collection of birth stories written by women who have taken our prenatal yoga classes, and who have generously shared the details of their unique labours and delivery experiences with us. Be sure to also visit the Yogaspace babies page.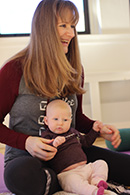 Mom and Baby yoga provides an opportunity to regain core strength and flexibility, to practice baby massage, and to meet other moms and babies (2 to 8 months)! Fun, informal, the babies are the 'bosses' in this class! The next session of Mom & Baby Yoga classes starts on July 7th, 2015.

Visit the Yogaspace babies page to see the birth announcements and photos of babies who were inside their mom's belly during pregnancy yoga! Precious....

The Yogaspace prenatal & postnatal resources page has a selective listing of Montreal groups and health resources for expectant and new moms.




Read our growing collection of fascinating, gripping and beautiful birth stories written by Montreal mothers and fathers.

These stories illustrate how each labour and childbirth is truly unique – and also provide a forum in which we learn from each other.




• On the resources page for pregnancy & new moms you will find an extensive list of contacts including Montreal doulas, Montreal massage therapists, Montreal breast feeding support groups, and many more.





Yogaspace is located at Shri in Westmount, 4846 Sherbrooke Street, near the corner of Victoria.




These morning and evening yoga classes provide "just you" time to go within, to reconnect and center through movement, breathing, relaxation and stillness.



Clearlight's teaching of the physical practice of postures balances both an emphasis on core stability and safe alignment with the importance of not only liberating deeply held tensions, but of discovering how the practice of yoga can bring a greater sense of wholeness and balance to every aspect of one's life. The Autumn session of classes will begin on September 12, 2016.






Enjoy the guided meditation practice of Yoga Nidra Meditation in the Autumn 2016 series of classes beginning the 11th of September.

Yoga Nidra is an accessible form of meditation for those seeking deep relaxation and wellbeing, and an effective way to cope with everyday stress.

The practice of Yoga Nidra and the Nondual wisdom teachings inform and inspire all of the classes offered at Yogaspace.





You can view the class calendar on the classes page and learn more about registration on our rates page.





Read more about Clearlight Gerald. She has been teaching these classes since 1999. For any questions, please call or contact us.




Receive news of special events and new classes by joining the Yogaspace Newsletter. The newsletter is sent out 2-4 times annually.